Hey Everyone! As a celebration of our 2nd anniversary, I wanted to share some photos and insight into our wedding day and all that went into it.
I can't speak highly enough about our venue. It was very important to us to have our ceremony in the forest. That is somewhere we both love to be and think that nature is the most beautiful decor possible. This venue offered that and so much more. We rented the property for the entire weekend which was an amazing deal. They have two houses on the property that we had all the bridesmaids and groomsmen stay in after the rehearsal dinner (which was also on the property) and a fire pit (Mason's favorite part) to wind down around that evening. They set up all of the tables and chairs for us the night before and had staff to direct parking day of the wedding. I feel like all of this was way above and beyond what I expect from a wedding venue but they did even more! They have a whole barn of decorations left from other weddings that they gave me access to for decorating and tons of cotton that they've grown they gave me to use as well.
Photo Credit: Clay Austin Photography
Venue: The Corry House, Union Point, GA
Flowers: French Flower Market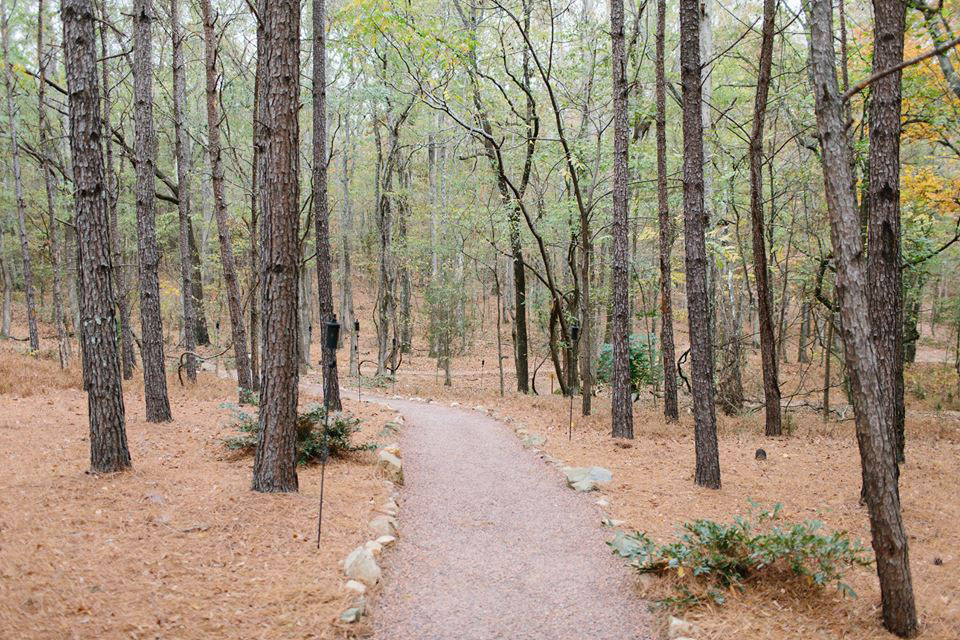 Our wedding day went perfectly! I even had time to take a nap between our bridesmaid's luncheon and getting ready. We wanted our wedding to be nature focused with a modern/whimsical twist and that is exactly what we got. 
The bridesmaids each worn their own unique shade of blue dresses they picked themselves, and flowers in their hair. The groomsmen had grey suits and matching floral ties. I made the boutonnieres and my flower crowns myself and my sister thrifted tons of flannel blankets for the guests to wrap up in if they got a little cold.
We kept our guest list short, for a more intimate feeling and it turned out to be the perfect combination of guests. Mellow Mushroom catered our wedding, which just had to be pizza (we had a tradition of getting pizza during every date we went on). We have such a fun-loving group of friends and family that any occasion would have been a blast but the fact that everything worked out so perfectly made this day one I will look back on fondly forever. 
Today marks two years of marriage for us which has just flown by, but we've also packed so much into those two years that it seems like we've known each other forever. Thanks for sharing in the memories too.